From Kenyon Blogs - July 15, 2013
The research for this piece was compiled by Busola Olukoya
So, you're an accepted-and-decided Kenyon student. Congratulations! Once you're past the thrill of that thumbs-up on the outside of your envelope, you realize that the inside is actually stuffed with paperwork and there's STILL more to do. One form that may be troubling you is the housing survey—where exactly, will you call home next year? We're here to break down your five residence options with real student input and up-to-date photography. Just remember that most people get their first option, and, no matter where you end up, you'll have a great time!
Gund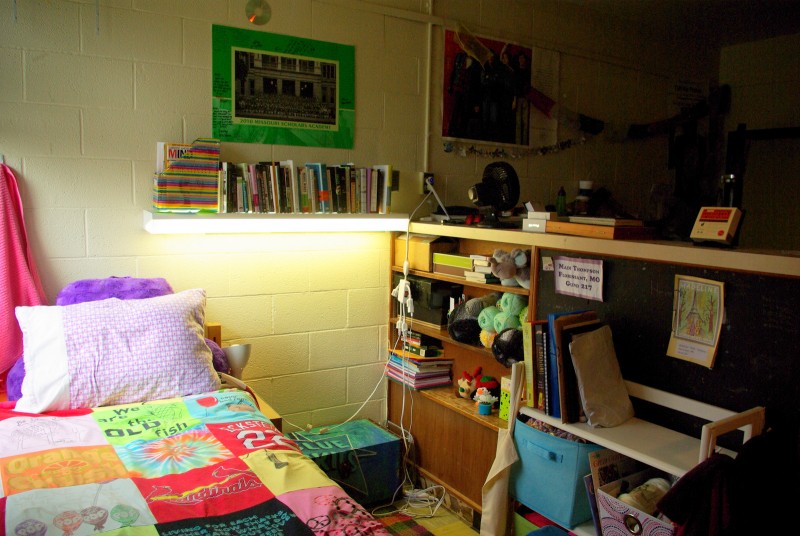 Half of a Gund double, featuring the classic divider
Located Northwest from the heart of Gambier, Gund (otherwise known as the Gunderworld) is home to the Gundergals, Gunderdogs, and Gunderlings of the first-year class. Gund is known for the classic divider that splits each room into mini-singles, and also doubles as a bookcase. Co-educational by floor, two-story Gund has additional lounges on each level with a hidden study lounge on the second floor. Gund floors are not carpeted, and there is no air conditioning here, so bring a fan for August and September! This hall is equipped with the only laundry facilities for the first-year quad, a microwave in the first-floor lounge, a Foosball table and a flat-screen TV in the Gund lounge. This additional lounge, at the front of the hall, is the gathering point for many organized events, from ice-cream socials to gingerbread-house decorating to Superbowl/Oscars/State of the Union screenings. Members of the class of 2016 say they love it for the tight-knit community they were able to establish and for the fact that the divider helps you have your own room within a room. Things they dislike about the hall include the fact that there is no AC in the rooms and the allegation that "no one comes to visit you unless they live (or wished they lived) there."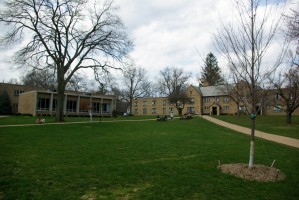 The first-year quad, featuring Gund on the left and Norton on the right
Lewis & Norton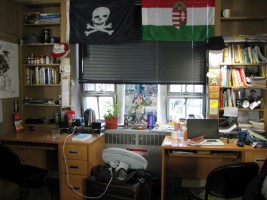 The study space of a Norton double, overlooking the Quad
Flanking Gund on the right and left are Lewis and Norton. These halls will be a lot like Gund—with single-sex halls, big rooms and big windows, no carpeting or air conditioning—but without the dividers in the rooms, which can be a plus. You won't have a pseudo-single, but there will be more floorspace. Also, neither of these halls has their own laundry facilities, so you will be making the trek to Gund for clean clothes. Of the three dorms in the first-year quad, Lewis is closest to "downtown" Gambier, sitting next to the Post Office, and Norton is the farthest away. First-years living in both Lewis and Norton (sometimes known as the Lew Crew and Nortonites, respectively) say that the best thing about their homes is how quiet they are, perhaps a little too quiet at times. but definitely a relaxing place to return to at the end of the day.
Mather & McBride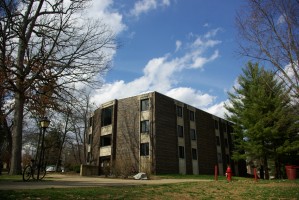 McBride as seen when walking from South to North
Facing off against the first-year quad are Mather and McBride, on the other side of Middle Path. These two are mirror images of each other, departing from the stoic, square-type layout of quad halls for an angular, horseshoe shape. The hall layout is asymmetrical, with each floor having a majority of its rooms on "long side" and still more on "short side," with a lounge located in between in "middle side." On the first floor, "middle side" is replaced with a breezeway,a frequent hangout spot and meeting place. The halls are twisty and narrow--you will hear some explain this as "riot-proof" architecture from the '60s but this is a Kenyon myth—and the walls are cheerfully painted with murals by former residents. (You can decide, as a hall, whether to keep a mural or paint a new one.) McBride and Mather are co-ed by room. Because of the irregular layout, some rooms will have more space than others, depending on whether you're in the middle of the hall or in a corner, and whether that corner angle is acute or wide.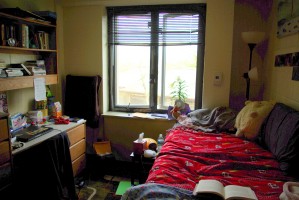 A McBride single
The lounges in Mather and McBride have couches, tables, and TVs, and the third floor lounge for each residence hall is also a kitchen. Both halls have laundry facilities, carpeting and air conditioning. McBride's perk is that it is the hall closest to the Market and Deli, facilitating the late-night snack run. In years past, McBride has gained a certain reputation as something of a party hall, although each incoming class will set its own norms to either confirm or challenge this image. The intermediary between first-year territory and the rest of North Campus, Mather is McBride's quieter twin; its upper floors are also home to some sophomores (and, in rare cases, juniors returning from abroad) who may feel a bit cheated by the housing lottery. A sloping lawn, complete with a tire swing hanging from a tree, extends behind Mather.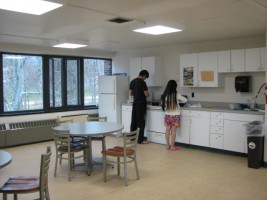 Students using the kitchen in third floor McBride
So, whether you get tickets to the Gund show or take it easy in McBreezy, there's a housing option for you. All the first-years are quarantined on North Campus until they make friends. Eventually, you will upgrade to the big boy/big girl options of Old Kenyon, the Acland apartments, or the NCAs—the new townhouses completed just last year. Of course, take our quick, first-year, residence-hall stereotypes with a grain of salt: the people you surround yourself with, and not the architecture of your residence hall, will make your freshman year a success.
Read the Original Post